COX
ARCHITECTURE

Established 1967, Sydney, New South Wales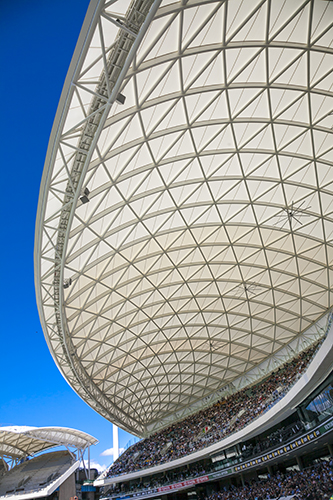 One of the country's architectural giants had its humble beginnings in 1967 when founding partner Philip Cox established his own practice in Sydney. Some 50 years later and COX Architecture operates studios in six Australian capital cities, Malaysia and the United Arab Emirates. The multi-disciplinary practice currently employs approximately 400 staff and while Cox is still engaged in the initial design stages of new projects, he's no longer involved in the day-to-day running of the business.
Each COX Architecture studio operates as a self-contained entity, although all are globally bound by an ethos that has the principals of structure, craft, art and nature at its core. This business model ensures cohesion and a consistency of detail, strengthened by a commitment to sustainability and technology, as well as an understanding of the technicalities of construction.

The ambitious $535 million redevelopment of Adelaide Oval by COX Architecture (in association with Hames Sharley and Walter Brooke) involved construction of new southern and eastern stands and public plazas, as well as reimaging the northern mound and ensuring the preservation of the heritage scoreboard. COX Architecture conceived the project as a series of three pavilions that project from the northern end in a horseshoe shape. The gap at the northern end, encouraging views of the site's surrounding parklands and historic St Peters Cathedral. Approximately 450 tonnes of steel and 14,000 bolts were used to construct the Southern stand in what was a complex erection methodology involving a number of 30-metre-high tower supports.