BARRY
GARDNER

Born 1954, Tokoroa, New Zealand

Lives Barossa, South Australia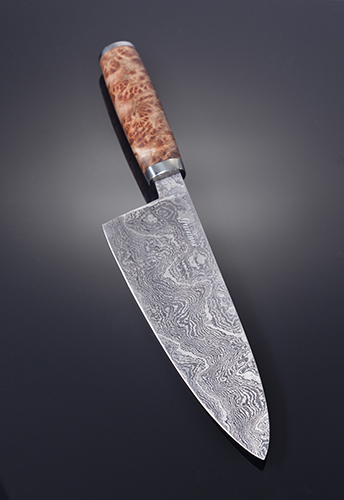 Barry Gardner came to knife-making late in life. After working in road construction for 18 years, one day Gardner ended up at a gun show at the Adelaide showgrounds, and happened on a stall-holder who made his own knives. Instantly intrigued, Gardner started a conversation, that unbeknownst to him at the time, would change the course of his life.
Inspired by the encounter Gardner began to do his own research, which was followed up by endless questions to those early contacts he made from that fateful trip to the showgrounds, until finally he was ready to take the plunge and become a full-time knife maker or cutler. Learning through a process of trial and error, Gardner experimented endlessly, excited by the potential of functionality and beauty of a well-made knife.

Working with recycled steel particular the steel of saw and files, Barry Gardner has become one of the biggest producers of Damascus steel in the Southern Hemisphere. The origins of Damascus steel or Wootz are not certain, but it's believed to have come from the Middle East, though this early technique was thought to be lost sometime in the 16th century. Newer Damascus steel techniques forge-weld layers of different alloys together and then fold or twist them repeatedly to create a wave-like pattern that is signature to Damascus or pattern-welded steel.